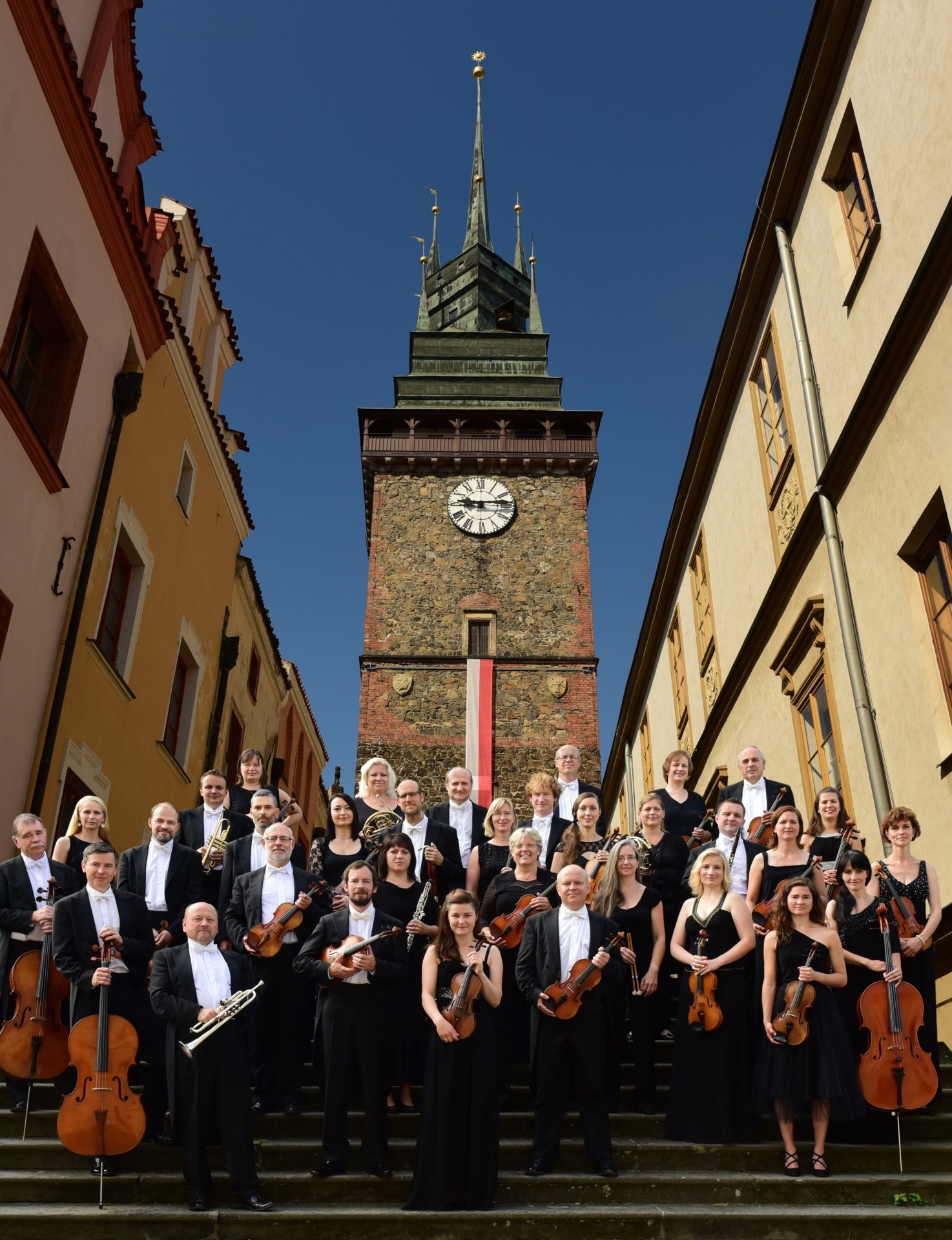 Czech Chamber Philharmonic Orchestra Pardubice
Czech Republic
The Czech Chamber Philharmonic Orchestra Pardubice, founded in 1969, is one of the Czech Republic's top orchestras. The repertoire of this chamber orchestra includes a large number of compositions from barock era to contemporary music, including many cross-over and multigenre projects. The first principal conductor, Libor Pešek, quickly raised the orchestra to a high standard and the subsequent principal conductors included Libor Hlaváček, Petr Altrichter, Bohumil Kulínský, Petr Škvor, Róbert Stankovský, Leoš Svárovský, Marko Ivanović and Peter Feranec have kept a high artificial level of the orchestra. Current leader is Stanislav Vavřínek. 
The Czech Chamber Philharmonic Orchestra Pardubice is valued for its stylistic interpretation and the extraordinary quality of its orchestral sound, and it is rightly ranked amongst the world's leading representatives of Czech musical culture. It often performs at Czech Republic's most important festivals (including The Prague Spring International Festival, the Smetana's Litomyšl or the International Český Krumlov Festival) and at many important venues in Europe in many prestigious concert halls, such as Concertgebouw Amsterdam, Salzburg Festspielhaus, Hercules Hall and Gasteig in Munich and the Musikverein in Vienna, Brucknerhaus in Linz, the Meistersingerhalle in Nuremberg and many others. Outside Europe the orchestra has played in Japan and has toured extensively around USA. 
The orchestra has collaborated with mandy leading world-renowned conductors (among others with Jiří Bělohlávek, Marco Armiliato, Marris Jansons and many others) and also a huge number of prominent soloists and choirs (Lazar Berman, Ivan Moravec, Eugen Indjic, Ivo Kahánek, Martin Kasík, Isabelle van Keulen, Vladimir Spivakov, Pavel Šporcl, Václav Hudeček, Gabriela Demeterová, Angel Romero, Jiří Bárta, Ludwig Güttler, Radek Baborák, Peter Damm, Herrmann Baumann, Helen Donath, Eva Urbanová, Dagmar Pecková, Czech Boys Choir Boni Pueri, Prague Philharmonic Choir, Czech Philharmonic Choir Brno) have performed with the orchestra. 
Apart from concert-giving the orchestra regularly engages in operatic and theatre projects and has dozens of successful discs to its credit on Naxos, ArcoDiva, Supraphon, Classico, Monitor-EMI, Amabile.
Stanislav Vavřínek
is the prinicipal conductor of Czech Chamber Philharmonic Orchestra Pardubice. After graduating from the Conservatory of Brno (flute and conducting), he studied conducting at the AMU in Prague and then completed the master courses of Roberto Benzi in Switzerland, which had a concert with the Biel Philharmonic Orchestra. From 1994 to 1998, he was the principal conductor of the Prague Student Orchestra, which under his leadership received many awards. In 1998, he conducted the International Youth Orchestra at the final festival concert in Shizuoka, Japan.
As a guest he collaborated with more than thirty symphonic and chamber orchestras such as the Brno Philharmonic Orchestra, the Prague Philharmonic Orchestra, the Czech Philharmonic, the Prague Symphony Orchestra. Prague Philharmonic Orchestra, Hamburger Symphoniker, Gdansk Philharmonic Orchestra and others. He conducted in Germany, Austria, Belgium, Switzerland, Poland, Spain and Japan. He has also collaborated with a number of outstanding soloists and has performed at a number of major festivals such as Shizuoka MHF, Brno Music Festival Brno, Prague Autumn Memorial, Prague Spring Festival. He made nine CDs with Mozart, Haydn, Dvorak, Tchaikovsky, Sternwald, Bartok, Shostakovich and others.