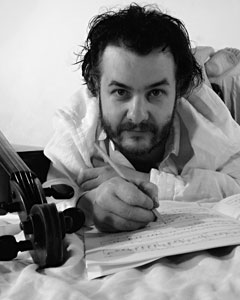 Lukáš Polák
Czech Republic
cello
Lukáš Polák was born in Jindřichův Hradec and studied at the Brno Conservatory under Prof. Miroslav Zicha. It was there that he also acquired the fundamentals of conducting, which subsequently led him to found the vocal-instrumental ensemble Musica da camera Brno, focusing primarily on authentic interpretations of music from the Czech and European High Baroque. These activities resulted not only in several successful concerts, but also in the release of a CD. He concluded his conservatory studies as Graduate of the Year with a monetary prize from the Czech Music Fund. In 2003 he graduated at the completion of his studies with Prof. Daniel Veis at the Prague Academy of Music.
As a soloist, he won first prize in the Teplice Conservatories Competition; third prize in the competition for the Hradec nad Moravicí Beethoven Prize, together with a Czech Music Fund prize for best performance of a contemporary Czech composition; third prize in the Leoš Janáček Competition in Brno, and third prize in Bohuslav Martinů in Prague.
In order to expand his musical horizons, he has taken part in a number of master classes led by distinguished figures in the musical world including František Smetana, Daniil Šafran and Jiří Bárta. Among his solo concert activities, he values most highly his work with the Talich Chamber Orchestra, the Brno Chamber Soloists, the Moravian Chamber Orchestra and Academy Chamber Soloist Orchestra, as well as his appearance at the 1998 Moravian Autumn Festival in Brno. His recording of the Shostakovich First Concerto for Czech Radio in Brno was widely acclaimed.
His interest in chamber music led him through several ensembles, finally finding his true calling as a member of the Škampa Quartet in 2004.