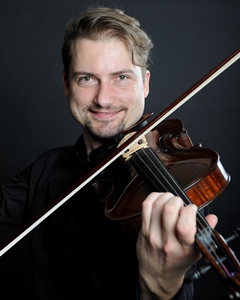 Martin Stupka
Czech Republic
viola
Martin Stupka was born in Prague and gained his first musical experiences from the age of 5 on the recorder, the violin and the accordion. He began to study the viola at the age of 14 at the Jan Neruda Music High School in Prague, continuing his studies at the Prague Conservatory and ultimately in Berlin at the Hanns Eisler Academy of Music and at the University of Arts. During his studies he took part in masterclasses with artists such as Libor Nováček, Karel Doležal, Volker Sprenger, Yuta Nishiama, Tabea Zimmermann, Wolfram Brandl, the Artemis Quartet with Natalia Prischepenko, and Günter Pichler.
Martin's musical activities are very wide-ranging and include collaborations across various musical genres : chamber music (with the Doležal and Sinus Quartets); chamber orchestra (with the Talich Philharmonia Prague and the Prague Chamber Orchestra); baroque music (with Collegium Marianum and Musica Floera); jazz (with P.F.O., Octothorpe and Mira Mode Orchestra); and folk music (with Rosénka). With those ensembles he has toured widely within Europe and further afield.
In addition to his work with the Škampa Quartet, Martin Stupka will continue to perform with the Czechoslovak Chamber Orchestra Prague, the Andromeda Mega Express Orchestra and the Ring Ensemble.
Martin Stupka has performed at the JAZZ Baltica festival (with the Gerdur Gunnarsdottir Quartet and the Don Friedman Trio) and at the Volksbühne Theater Berlin in a play "Antigone/Elektra" by the director Werner Schroeter.
As a soloist, together with Dana Oerterová and the Piccola orchestra from Prague, he won the "Martinů Prize" at the festival Youth Stage in Carlsbad in 2004. In 2016, Martin performed (with Jan Mráček) the Sinfonia Concertante by Mozart in original scordature.
Martin Stupka has also given masterclasses at the String Master Courses in Dobřichovice.