The traditional pre-Christmas meeting and concert on the occasion of the ceremonial release of the CD from the 12th Kutná Hora International Music Festival, organized by the Lotos agency and cellist Jiří Bárta, took place on 18th December 2019 at the Music School in Kutná Hora. The new disk is a tribute to Leoš Janáček. 
Love letters by Leoš Janáček to Kamila Stösslová, more precisely those from the six months before the composer's death, inspired the festival concert on 2.6.2019 recorded on this year's CD. The legend of Czech acting Josef Somr as the aging Leoš Janáček and pianist Terezie Fialová as the composer's juvenile muse Kamila is divided by a similar age difference. What unites them, however, is the passion of expression, the feeling of a phrase, and the humility of the text. 
The story of a composer who, at the end of his life, rewrites musical history with his original compositions full of special combinations of beauty, sadness, defiance and nostalgia. 
The godfathers of the CD were the actor Josef Somr and the mayor of Kutná Hora Mr. Josef Viktora. Cellist Jiří Bárta, pianist Terezie Fialová, actor Josef Somr and young promising musicians and children of Jiří Bárta: pianist Ayla Bárta and cellist Josef Bárta performed at this Advent time.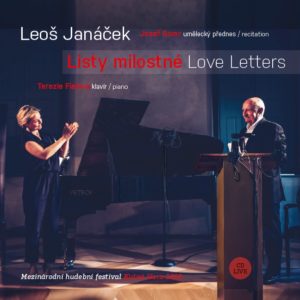 You can order the CD by email at lotos@mfkh.cz.